In the forex market, which is also very rich in terms of investment instrument diversity, the investor can profit by using any instrument they wish. Those who want to take advantage of the profitable trading features of the market also increase their curiosity about what is traded here. Although the abbreviation is "foreign exchange" suggests that only currencies are traded here, almost any instrument can be traded in the forex market. We prepared an article to be an answer to the questions of what are the forex market investment instruments and how they are traded.
What Are Forex Market Investment Tools?
There are many investment instruments traded in the forex market. Compared to other markets, these instruments are traded here under much better opportunities and bring higher returns.
This situation, which occurs depending on the transaction characteristics and structure of the market, ensures that this platform attracts intense attention.
Bidirectional trading, leveraged trading, limiting risks with a stop-loss order, the right to trade under the same opportunities with all world investors, the low difference between buying and selling, no speculation and manipulation, 24 hours a day, 5 days a week, excluding weekends. Many features such as the ability to trade online show that forex is more advantageous than the stock market.
For all the reasons we have listed above, it is known that investment instruments traded in the stock market bring higher returns in the forex market.
Investment transactions made in intangible ways with a large number of investment instruments take place in these markets in the short term. By following the fluctuations in the prices of investment instruments over the internet, buy and sell orders are given according to the price movements that occur or are expected to occur.
So, what are the trading instruments? We can say that the currencies of all countries of the world, tradable goods, stocks of the world's leading companies and major stock market indices are instruments traded in forex. Now, let's get to know each of them more closely.
Currencies
This market, which is managed through trade centres located all over the world, has gained its global character in this way. Therefore, the trading hours are longer compared to other markets. In fact, there are no specific session hours as in the stock market, it remains active all the time.
So how does this happen? While one of the trade centres that manage the market closes, another one is always opened due to the time difference between the countries, and thus the market remains open all the time except weekends. Investors make their transactions from any device with an internet connection through whichever trading centre is open.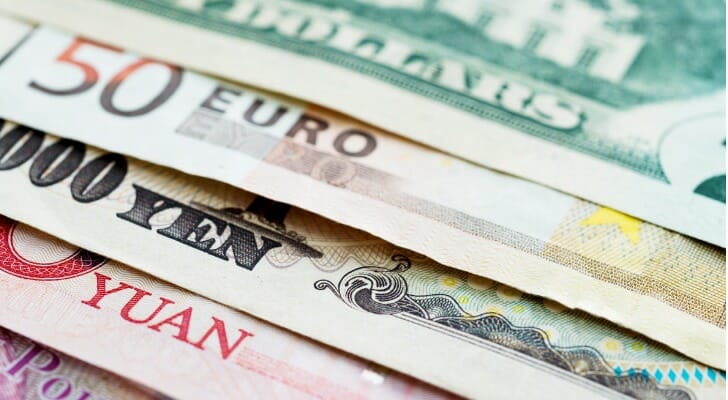 Here, this situation turns into an advantage especially in terms of foreign currencies. In the Forex market, it is possible to invest in the currencies of all countries of the world. In fact, when the name of this market is mentioned, the first thing that comes to mind is currencies.
7 major currencies are traded in the Forex market and also, unlike the foreign exchange market, it is possible to invest in the currencies we call the minor currency. However, currencies other than those bought and sold in the region can also be evaluated here.
As it is known, currencies are traded in pairs, that is, in pairs, on financial platforms. Thanks to this situation, the bidirectional operation feature emerges. In other words, currencies can bring gains in the forex market both while gaining value and depreciating.
To explain over a parity; In the GBP/JPY parity formed by the British pound and the Japanese yen, the GBP is bought and the JPY is disposed of while the GBP appreciates. Likewise, as GBP depreciates, GBP is sold and JPY is bought. In this way, an investment instrument gains from both value gain and depreciation.
Pairs consisting of 7 major currencies are called major parities, while minor currencies are traded with a major currency next to them and form minor parities. Although these are the pairs preferred by investors who are willing to take higher risks, profits can be made thanks to the lucrative market.
Commodities
The word commodity means commercial goods and it is the form of many tools that we often know from daily life, used as investment instruments. For this reason, they are also known as safe investment tools.
At the same time, commodities show great fluctuations in the long run and therefore they are seen as one of the long-term investment tools of the stock market.
However, forex, which is suitable for short-term transactions, is also seen as a high-profit investment tool thanks to leveraged buying and selling transactions.
Commodities, which are a good alternative especially for those who have a small amount of money and want to evaluate it, are very safe instruments. Forex ranks first as the most suitable market for these instruments.
Commodities are;
Precious metals (gold, silver)
Industrial metals (copper, aluminium, steel, …)
Agricultural products (wheat, corn, cotton, cocoa, …)
Energy products (oil and its products, natural gas, …)
forestry products,
foodstuffs,
chemicals,
It creates a wide investment alternative by dividing into groups such as raw materials.
Among these commodities we have listed, those that are the most subject to investment in financial markets are; gold, silver, copper, petroleum, corn, cotton, cocoa. They have higher transaction volumes than others. To briefly mention these commodities;
Gold and Silver
Gold is a unique investment tool that has been bought and sold since ancient times and never lost its moral value. Since ancient times, it has been considered very valuable and even an indicator of wealth.
It is rarely invested with physical storage methods and traded in financial markets, thus making it the protagonist of profitable investments. Thanks to the trading features of the forex market, gold is most lucrative here.
Due to the fact that the central banks of the countries always have gold in their stocks, people see gold as a reliable investment tool. For this reason, during the economic and political crisis, natural disasters and the disclosure of macroeconomic data, the demand for currencies decreases and gold is invested.
We can say that it has been possible to invest in silver, which is an alternative to gold, thanks to the forex market. Due to the rapidly deteriorating and darkening nature of silver, physical investment and long-term storage are not possible.
Thanks to the intangible buying and selling transactions carried out in these markets, silver has become a lucrative investment tool. Its price varies depending on gold and, like gold, it is traded as an ounce price in US dollars. It is a commodity preferred by investors because it is more affordable than gold.
To learn more about gold trading, check out our related content.
Copper
Copper, which is in the industrial metals group, is one of the lucrative commodities in the forex market. This commodity, which is used in many important areas of the industry, is a good alternative for investors due to its performance in recent years. It is an affordable and lucrative instrument when properly evaluated.
It is one of the commodities whose prices change depending on gold and which is an alternative to gold. Apart from its low price, developments in the industry may increase the demand for copper, and in this case, copper will appreciate in value.
Oil
The absence of oil, one of the world's most important resources, is unthinkable. It remains popular at all times due to its use as both raw material and fuel. For many years, it has been fought for and all countries wanted to increase their wealth by having more oil.
So much so that, despite factors such as advancing technology, no product has been developed to replace oil. It is one of the safe investment instruments with its regular supply and demand, and two types of Brent and West Texas Oil are traded in the markets.
Oil, which is seen as the black gold of the markets, can be easily traded thanks to the transaction features of the forex market. One of the two commodities that give this strength to the strongest currency, the American dollar, is gold, while the other is oil.
Corn, Cotton, Cocoa
These agricultural products, which are needed in many areas such as food, textile, cosmetics, health, are investment tools of forex with high transaction volume. This high transaction volume is supported by the wide usage area of ​​commodities and the globality of the market.
Agricultural products such as wheat, corn, cotton, soybeans, cocoa, coffee, sugar, milk, live cattle, palm oil, rice, cardamom are considered commodities and each is invested in intangible ways.
In addition, these are products that we are familiar with from everyday life, so almost anyone can comment on how and in what direction their prices may change in the future.
In addition, the factors affecting the prices of agricultural products are more pronounced than the factors affecting other investment instruments. For this reason, they have won the hearts of investors as safe investment tools.
Stocks and Stock Indices
Stocks and stock indices, which we refer to together with the stock market, are traded under much better opportunities in the forex market today and naturally bring higher earnings.
Thanks to many factors such as long trading hours in these markets, trading all over the world, and advantageous trading features, more profitable transactions can be made than stock markets.
Thanks to its bidirectional trading feature, stocks bring gains not only when they gain value, but also when they lose value.
Thanks to the online transactions, it is possible to easily invest in many stock market indexes such as the world-famous S&P 500, DAX, Dow Jones, FTSE 100. In these non-physical purchases and sales, you gain or lose from the changes recorded in prices.
The difference between Forex and stock markets is that it is a global market. In addition, it is not managed through a single centre. In this way, safer and higher profitable transactions can be made.
How to Choose the Right Investment Tool in the Forex Market?
The constant concern in the minds of those who consider the idea of ​​trading in the financial markets is which instrument to invest in. In this respect, when choosing an instrument in forex, where there are quite a lot of options, it creates a question mark in mind which one wins.
At the beginning of our article, we briefly introduced the tools traded in this market and their features. Since Forex is an advantageous market, it would not be correct to say that this tool is more profitable. Because all of the things we have mentioned are bought and sold on this platform, bringing profit to the investor.
Anyone who starts investing in the financial environment needs to know their expectations fully and shape their goals accordingly. In fact, doing so will answer any questions. Of course, the thoughts and expectations of those who invest in foreign exchange and those who invest in oil are different from each other.
After you have honestly expressed your expectations to yourself, the first thing you should do is get to know the market and learn what is being bought and sold here. If you want to choose the instrument that will be most beneficial to you, as always, you should try to gain knowledge and experience.
Virtual accounts will help you a lot in this regard. Here you can start trading with the instrument you want and try yourself. In addition, you can find the opportunity to get to know the investment tools closely and test whether they are suitable for you.
SEE MORE: Best Forex Brokers in 2021